Colorful characters representing the Kickapoo Indian Medicine Co., the Hamlin Wizard Oil Co. and the Chattanooga Medicine Co., fanned out across the country in the late 1800's and early 1900's bringing entertainment, music, magic, comedy and patent medicines to the gullible public.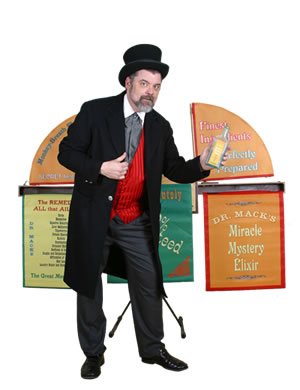 This lively lecture/entertainment presentation takes a historical look back at this unique period of Americana as well as recreating a fun-filled comedy magic pitch for Dr. Mack's Miracle Mystery Elixir. Forty-five minutes of laughter and learning with a healthy dose of amazement.
"Step a little closer folks - I'm going to relieve you of the weight in your wallet that's causing the pain in your back; I'm going to cure the headache of where to spend your hard earned savings; I'm going to take away the constipating pressure of figuring out how to send Junior to college. That's right, ladies and gentlemen, when I'm done with you those will be the least of your worries!"